About The Feiring Line
The Feiring Line, the world's first independent natural wine newsletter was launched in the fury of Hurricane Sandy, Halloween 2013.
Since then, it has converted from a series of individual PDF downloads to an ever-growing, fully searchable database packed with the best people, vineyards and bottles the natural wine world has to offer.
As a subscriber you now have access to the current information but also everything that has been published in the past in a fully searchable data base, the largest of its kind dealing with wines that are authentic from the ground up.
Please send along your thoughts, your wishes and requests and as always, thanks for reading.
About Alice Feiring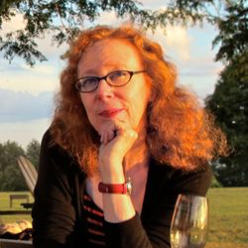 They've called me controversial and feisty but whatever, the fact is that I do find myself leading the international debate on wine made naturally. I found my métier in 2001 when I wrote an award-winning article for the New York Times, "For Better or Worse, Winemakers Go High Tech." Through researching the topic I uncovered a world of flavor- and aroma-changing additives. "Fraud," I cried, "Give me my wine back!" And then I went to work.
I have helped to define "natural," uncovered the abuses of ubiquitous terms like "organic" and provoked readers to share my concerns and passions. Approaching wine from the ground up, I try to work much like an anthropologist to respect and preserve what is indigenous to wines and their traditions. From the ancient vines of the Canary Islands to the qvevris of Georgia, I am attracted to simple, effective century-old practices. I identify wine that unlocks culture and heritage, methods that reflect and relate human stories.
An early attention-getting blogger, in 2008 I wrote The Battle for Wine and Love: Or How I Saved the World From Parkerization. It worked.
I followed that up with Naked Wine in 2011, a narrative romp through the history and the personalities of vin naturel. In short? It's about the natural wine. You need to read it. Then in 2016 came the immersion into Georgian wine with For the Love of Wine; my odyssey through the world's most ancient wine culture. In 2017 the subsoils of the vineyard got elevated in The Dirty Wine Guide, written with the help of Ms. Pascaline Lepeltier, Master Sommelier. Natural Wine for the People? That was published in 2019. My latest book, To Fall in Love Drink this, out on Scribner is published August 2022. 
Translations of my books have appeared in French, Spanish, Slovakian, Italian and Georgian. In the midst of all of this, in the middle of the 2013 storm, Hurricane Sandy, I launched The Feiring Line, the natural wine newsletter.
I've won a few prizes, including the James Beard, Louis Roederer and Gourmand writing awards. In 2013 I was named Imbibe Magazine's Wine Person of the Year. In addition to books, I have an outside writing life and have published numerous essays, have been the past wine correspondent for Wall Street Journal Magazine and Time and currently freelance for a never-ending parade of publications including The New York Times, Town & Country, Wine & Spirits, World of Fine Wine and Newsweek, among others, from my tenement apartment in New York City.