No. 19: January 2015
The Wine Recommendations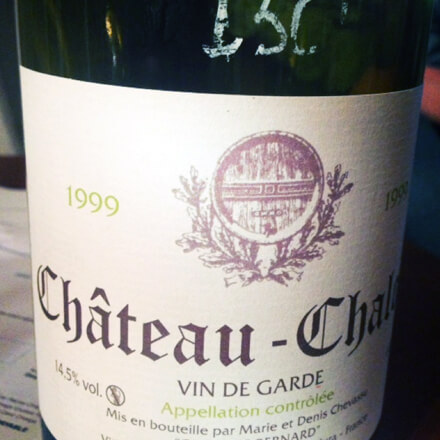 Marie et Denis Chevassu
1999 Château-Chalon
| | |
| --- | --- |
| Where | Château-Chalon, Jura, France |
| Grape | Savagnin |
| Ag | Sustainable |
| SO2 | Conventional |
| Price | $58 |
Château-Chalon is a bowl-like terroir, the most famed in the Jura. Everything made there is Vin Jaune: savagnin raised under a voile (veil—aka flor) for six years and three months or longer. According to Wink Lorch, the 1999 was Marie-Pierre's first, previously vinified by her father Denis until 2008. I drank this in a hotel room with John Wurdeman (Pheasant's Tears), his wife Ketevan and winemaker Paolo Vodopivec at two in the morning. It was the best night cap I had in ages. The salinity was extreme, balanced by a toasted brazil nut and lemon confit yumminess with an edge. Oh, that edge. It was deep. Intense. And if you search for it, it's out there somewhere.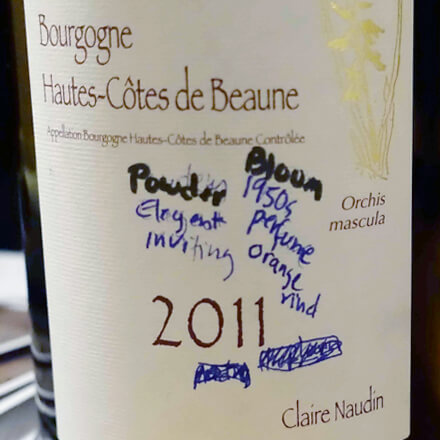 Domaine Naudin-Ferrand
2011 Hautes-Côtes de Orchis Mascula
| | |
| --- | --- |
| Where | Hautes-Côtes de Beaune, Burgundy, France |
| Grape | Pinot Noir |
| Ag | Sustainable |
| SO2 | None added |
| Price | $50 |
I've been beating the Claire Naudin drum for a long time, and the truth is, they're terribly hard to find in the United States, or anywhere else for that matter. Why? Well, she does sell a lot directly from the domaine, but they also go mostly to restaurants, when they should be going to us. Stand by, Wine Society members! Meanwhile, let me tell you how much I loved this. From the Hautes Côtes, just above Pernand-Vergelesses. Elegant, inviting, generous, bloom and roses. The wine made me think of some romantic 1950s movie star with the most subtle yet come-hither perfume.