Issue No. 23: July 2015
The Wine Recommendations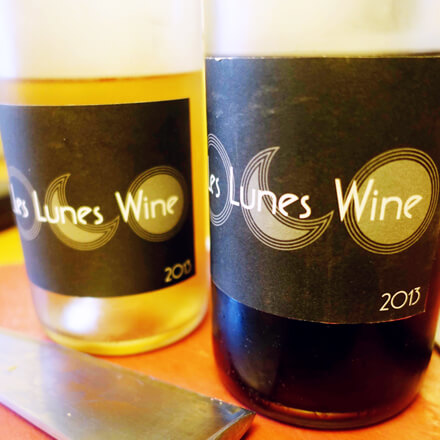 Les Lunes
2013 Les Lunes Red
| | |
| --- | --- |
| Where | Paso Robles, California, USA |
| Grape | Grenache, Syrah, Mourvèdre, Tannat |
| Ag | Organic |
| SO2 | 25ppm |
| Price | $28 |
With degrees in chemistry and enology, how do Sam Baron and Shaunt Oungoulian make wine this good? It IS a new world. I guess this is what happens when generations are raised on natural wine and use science to advantage. Here, they do "reverse saignée," which creates a sort of carbonic maceration-ish relative to the infusion I discussed in this issue. "We filled our fermenter with whole clusters then topped it with rosé juice." This created an anaerobic environment in which they barely need to punch down. During the entire five-week period of fermentation they punched down only twice. What they ended up with was spice from whole cluster, structure from normal elevage. Glou-glou, featherweight and satisfying at the same time.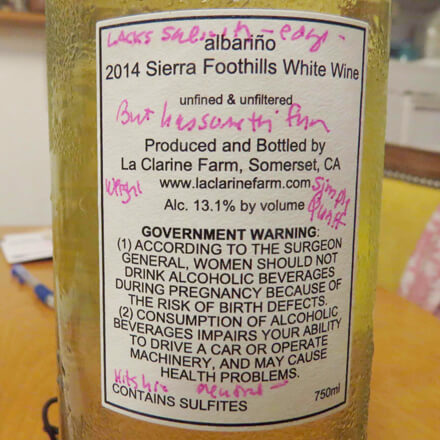 La Clarine Farm
2014 Albariño
| | |
| --- | --- |
| Where | Sierra Foothills, California, USA |
| Grape | Albariño |
| Ag | Sustainable |
| SO2 | Low |
| Price | $26 |
The Atlantic, granite and albariño is a holy trinity, but in this wine we get to see the grape strut its stuff off the coast of the Pacific, on limestone and schist, which gives a whole other expression. While simpler than the Nanclares (see article), it has something really interesting to say; that would be lemon and almond and limestone. The wine was whole cluster pressed to tank and remained in tank, on the lees, until bottling. No wood.