Ferdinando Principiano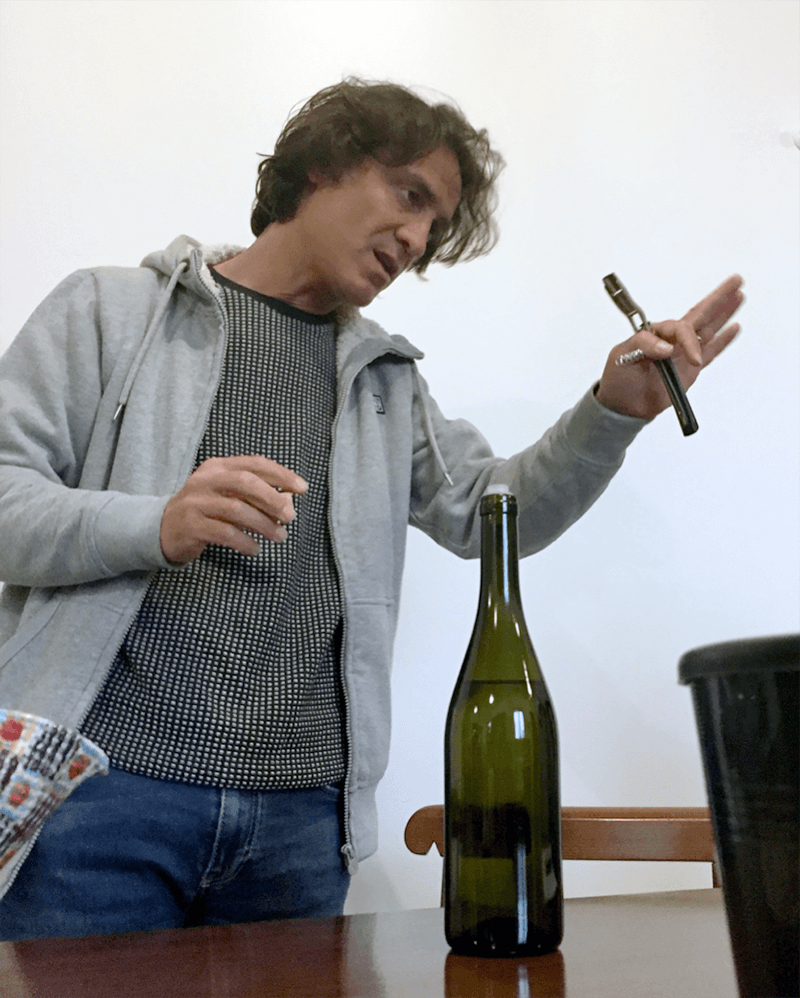 The Monforte Ravera vineyard is in the southernmost tip of Monforte d'Alba, just at the border of where the zone ends. It was there, in a warm 2017 spring rain that an unsung hero of Barolo, Ferdinando Principiano, was cursing a worm he called "nottua." This nocturnal cutworm feasts on new vines and buds. "The only remedy—as we don't use insecticide," said the sleep-deprived vignaioli, "is to go just after nightfall in the fields with a light and capture them as they go out to eat."
Ferdinando's vines were a full two-week precocious and the worms were well fed. There would be other tzuris beyond the worms. Flavescenza was destroying barbera. In a few weeks the nasty vintage would bring the disaster of early frost for much of his area. Then in the coming summer there would be profound heat and drought. Even if he had been able to see into the future, I think he'd still have presented his Zen spirit. "For me," he said, sweeping his arm in the direction of the steep slope behind him, "this is paradise."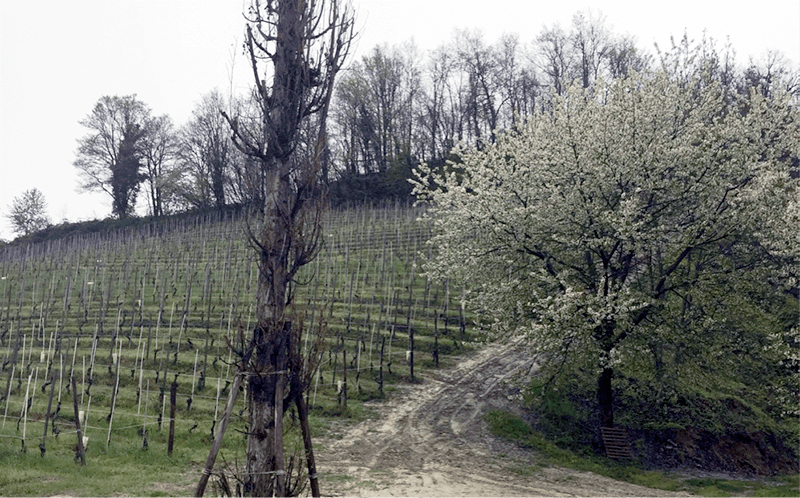 The Principiano Ferdinando (eponymous but reversed, for reasons unknown) petite cantina is the entrance of the town of Monforte. Under his label, Ferdinando makes a spectrum of Piemonte wines including a to-die-for freisa and maybe the best timorasso I ever had. Then of course there are Barolos.
Those all come from about ten hectares of vines, mostly spread over the communes of Serralunga and Monforte. The oldest vines from the michet clone—smaller-berried and more fragrant—are in that wormy Ravera vineyard, planted by his grandfather in 1936. The second planting commenced in Serralunga. That's the Boscareto, which is the lower part of the hillside of Cascina Francia and it took root just after WW2. For years the family sold to the likes of Ceretto, Vietti and Giacomo Conterno. A certain amount of wine was made in demi-john, for local consumption.
Ferdinando might look as if he'd be at home as the head of a Milan fashion house, but when you shake his hands you can feel the grip of a pruner and cutworm mangler. His first vintage alongside his father happened when he was thirteen. In 1993, he took over the farm and turned it into a full-fledged winery. He followed the gospel of the moment: Parker-style with new barrels and everything else that you needed to go modern. But something happened a mere decade later. Think of it: the year was 2003. Traditional Barolo was practically extinct. But Ferdinando searched his soul. He knew something was wrong. "My wines were falling apart. They weren't even old!" More than that, he didn't even like them even when they were young.
He took action. He threw out the rotor fermenter and bags of additives. He went to big barrel. He stopped racking and over-fussing. The result, he said, was that he found his wines were fresher. The work in the vineyard changed as well, he went organic. He was particularly disturbed by his climbing alcohols and became a student of older texts to discover the tricks of the ancients. "That's when I stopped green harvest." It proved to be an essential move. His alcohols returned to normal, around the 13% levels and at times—as with his dolcetto—even a refreshing 11% and change. Currently he's turned to trying to reduce copper sulfate in the vines, so he's trying out sprays of aloe, algae and propolis. In the winery, which is without temperature control, he's scaled down the SO2. There's no firm rule, but his wines rarely reach 40 mg/l and are often below. In this area of Barolo where the land is so expensive, working organically is finally spreading. But natural? Not so much. "At the beginning father did not agree," he told me, "but eventually he understood and allowed me to try and make mistakes."
There weren't any. In fact, from the Belen sparkler to remarkable barbera to the Boscareto single vineyard Barolo, the wines are beauties.
He has three Barolos, from two distinct terroirs. The limestone of Serralunga generally produces a more austere wine with less color and higher acid and tannin. He bottles two different wines from that commune. The Serralunga is from the younger vines, destemmed with a month of maceration. Boscareto is from the older vines, not destemmed (depending on the vintage) and foot crushed. The fermentation usually takes between 40 and 90 days and then has three years in barrel. The wine is certainly intense and needs time to unwind.
His third Barolo is produced from the sandstone-dominated Monforte Ravera vineyard. With the combo of sandstone and michet, he finds its Barolo more feminine, more approachable with a more intense color.
Those differences among the the single vineyard bottlings has Ferdinando thinking that their sum would be greater than their parts. Some of the greatest winemakers dismiss the notion of single crus for the greater good of expression and harmony. Bartolo Mascarello and Giovanni Rinaldi for example celebrate the blended vineyards. Ferdinando, still thinking, searching and trailblazing, is considering following their example and might soon blend his two terroirs to achieve a more profound balance. "I find Nebbiolo is one of those varieties that really change direction depending on the terroir so I feel the cru are always missing something. By using both Ravera and Boscareto I believe there would be a better harmony in the wine."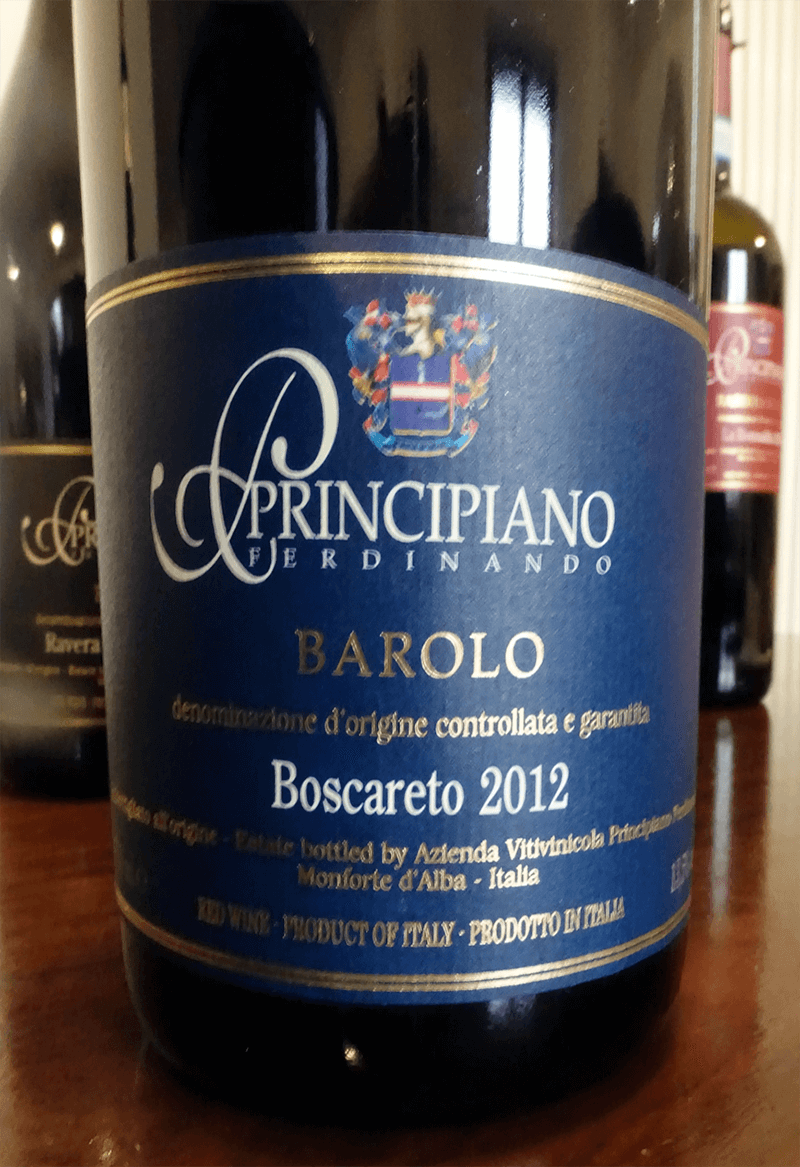 The pursuit of harmony might be the way to look at Ferdinando's approach. The fruit, acid, freshness and tannin in his wines seem always to hold hands.
We rushed off to lunch before the restaurant closed. We all considered the wine list, it was certainly time to drink. I love watching how a winemaker chooses a bottle and the wine Ferdinando most wanted, and so did we, was the 2013 Giovanni Canonica Paiagallo Barolo. We drank it. With reverence.