Field Notes: June 12, 2023
I'd been to Greece once before. Back in 1998. I had been invited on an "Oldways" trip, mostly attended by chefs and food writers—I was writing for Cooking Light at the time, so I suppose that's how they let me in. We were based in Crete, and during the events there was, of course, a wine component. At the tastings, I found delicious wines from indigenous grapes. Humble. Lovely. I also remember a parade of unwelcome (to me) merlot, sauvignon blanc and their ilk. You know, the romancing of French varieties. They were just one of many countries looking to capture Robert Parker's attention, and shedding their local grapes and traditions came along with that objective. The downsloping of Greek wine continued for quite a while and I turned my attention elsewhere. But over the years there was one here or there that I loved. More came along. It was obvious that a small renaissance was in progress. Then when Aris Soultanos launched his natural Greek wine importership Eklektikon there was proof. I was convinced to return. I'm fresh off the plane from 10 days in Greece with Aris and a few wine buyers and importers.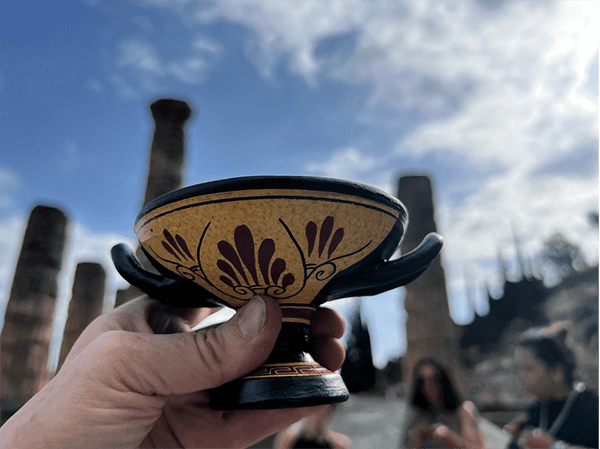 Lifting a cup of Doric Wine to the ghost of the Oracle at the Temple of Apollo.
Aris approaches his job with zealot-like energy. He wants to raise up the forgotten varieties and get people to pay attention. And he got mine with journeys from the islands of Serifos and Lemnos, to the mountains of Delphi and the gentle slopes and lake-dominated southern Macedonia. There were those 500-year-old vines, the buried anfora, the vinifying with fir branches in the shadow of the Delphic oracle. A wide range of pruning techniques and cute little moscato vines on Lemnos that looked like orange tree terrariums.