The following story, NOMA, won 1st for best Food & Wine story from Born Digital Awards. Yippee!! Many thanks to the judges for liking this. I loved writing the piece and am grateful to them that they understood me. Having a Sally Fields moment here. And so, as it usually sits behind the TFL paywall, I plucked it out to share with you.
••
The idea for the dinner at the world's most watched restaurant was hatched this summer when I felt trapped in my living room. I was finishing up my next book and extremely isolated, claustrophobic and anxious. Over Messenger, I confessed it all to my friend John Wurdeman while he was showing students from the Slow Food Academy the charms of his adopted country, Georgia. "I need an adventure," I typed out.
He wrote back, "Let's meet in Copenhagen. Go to Noma. It's the vegetable menu."
I was thinking more along the lines of Ayahuasca, not exactly a meal.
Anyway, could I really drop nearly $400 (DKK 2,250) on a dinner, and that was before the wine? I was a writer in a tenement not an investment banker in a penthouse. Yet, having been a vegetarian for most of my life I had drooled over the Instagram photos, especially those of the celery root shawarma. Brilliant. The stuffed morels had me scattering heart emojis. That weird ass mold pancake with plum kernel ice cream? Had to have it.
I started to rationalize. The restaurant, four times awarded the top spot by the World's 50 Best Restaurants, was uniquely committed to natural wine. It was a professional obligation to go. And, for once, I wouldn't have to worry about being in a fancy pants restaurant where there was nothing I wanted to drink or wonder what weird animal parts would show up unbidden. In truth, experiencing René Redzepi's vision was a box on my list that needed ticking. Fortified with an arsenal of perfectly valid reasons, I wrote back, "Yes!!!" Then I promptly had a panic attack.
By the appointed night in early September I was resolved. The sun was still high in the Nordic sky and we—John, who is something of a pack animal, had invited two eager women from the Slow Food Academy—arrived at the retrofitted munitions factory in Copenhagen's dodgy, druggy Christiania neighborhood. We neared the large wooden door, as imposing as a Viking church entrance. There a raft of staff welcomed us with a communal, "Hi guys." Like the booming "Yes Chef" that echoed from the open kitchen, this theater was a bit much. The airy dining room was Danish modern without being retro. We took our corner table, near the framed pinned butterflies. I imagined the lepidopterist Vladimir Nabokov was watching me throughout the meal.
A reservation at Noma earns bragging rights, but it's not for everyone. There might be fermented squirrel in the soup or crickets in the mole sauce. Some diners might be wearing jeans. And then there are those pesky natural wines. Some reactions on the internet are less than enthusiastic. While the Noma program's ethos was aligned with mine, I could almost sympathize with the complaints because I too like to drink what I like to drink. That's why I usually shy away from a sommelier's pairing. But John told me that was our plan, and that was it. So in exchange for an additional $200 (DKK 1,350) per person, Mads Kleppe, our friend and head sommelier, was going to be in charge of our drinking for the night.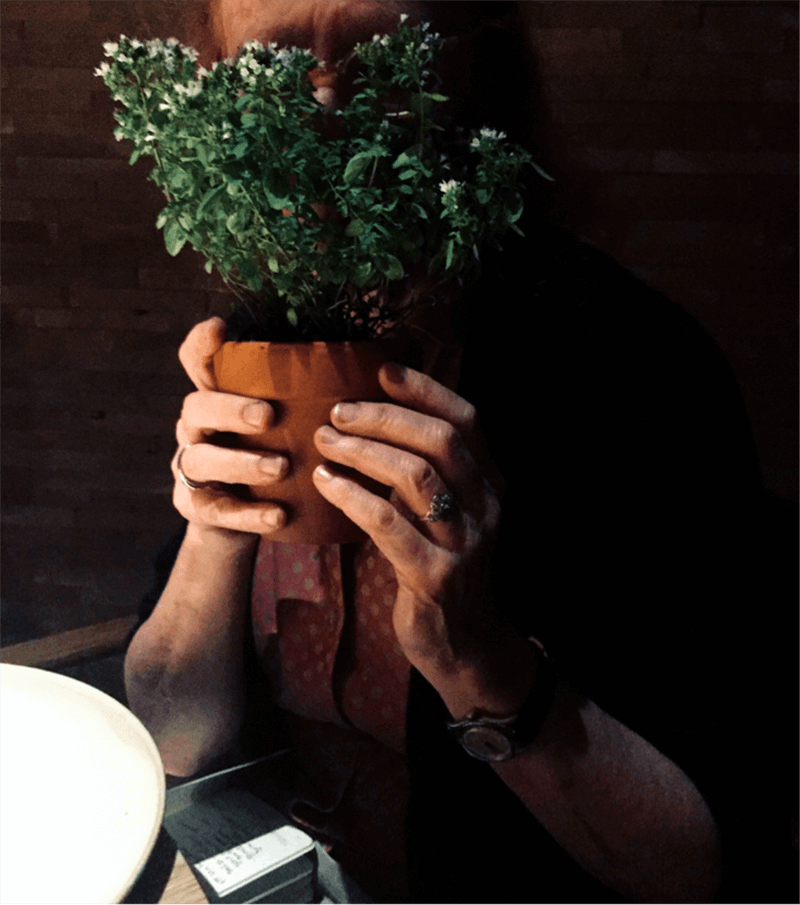 The first course arrived, it was a terracotta potted herb. We were instructed to suck through a bamboo straw jammed into the soil. I'd heard that Redzepi had been experimenting with fox (or so my in-house sources said—gross) and there was that squirrel. With the spirit of Nabokov upon me, I thought of the letter in 1924 he sent to his wife Véra. "In everything enchanted there's an element of trust." So, I tucked my head into the plant and reflexively braced myself for a mouthful of dirt. Instead I was rewarded with a most intense chunky potato soup, layered and complex, an amuse that amused, that engaged the senses, even the one to flee, and reminded that food comes not from the head of Chef, but the earth. That potato magma set up the meal with a taste explosion.
Mads served nine wines, a few at a time to stretch through the courses, each one served with a Mona Lisa smile. He wasn't going to give us their names, origins or any identifying clue. Now, the first wine, the Alpine-like one that wasn't. Was it Basket Range or Styria?
The women from Slow Food looked on with curiosity as John and I started the what-are-we-drinking game. The second wine, now that had to be chenin. We agreed. A completely charred onion arrived on a flax napkin, its layers were so slick and visceral I blushed eating it.
The wine it coupled with was also chenin-like, but not really. Seaweed green Nordic dolmas arrived on a similarly colored plate. These were of rehydrated cucumber skins rolled around cucumber crème with thyme. Artichoke has nothing on a cucumber when it comes to difficult wine pairings. But Mads' nutty counterpart was the yin to its yang, even if it had us stumped. It wasn't concentrated enough for the Jura, so from where?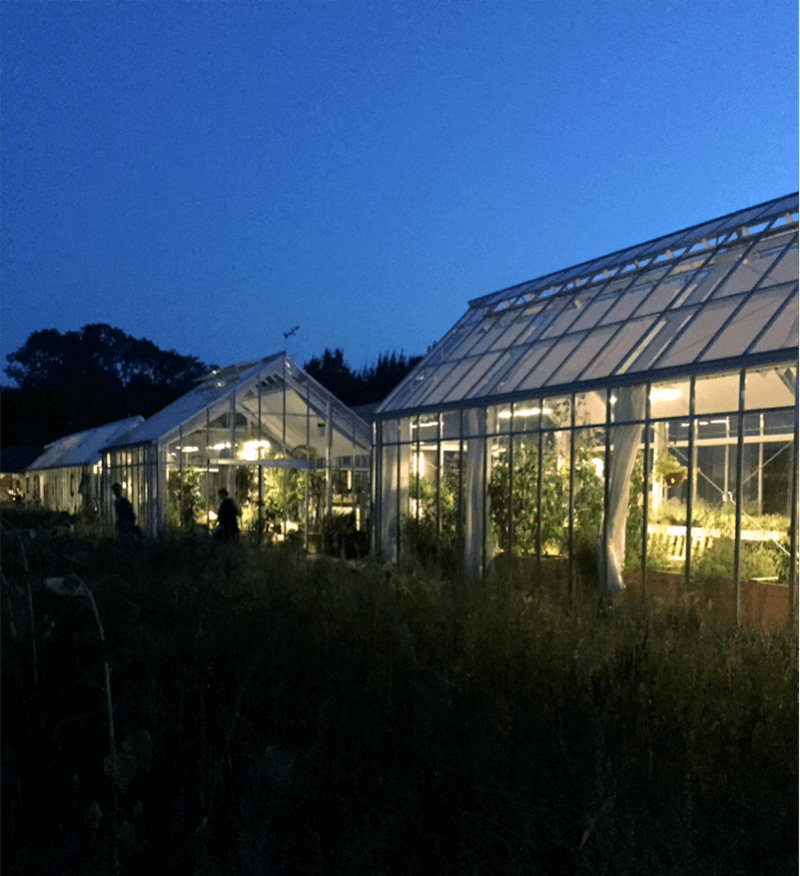 During the meal's half-time break, a walk outside next to the greenhouses and baker's lab.
Over the next hours and nineteen mini courses, there was a mix of the humble and the profound—and such a profusion of edible blossoms I began to feel like a bee.
By the time the fried marigold flowers with a splash of whisky eggnog came along, we were at half game. This wasn't my favorite course. Some other dishes also didn't hit the delicious mark. The gorgeous honeycomb dish called 'wax broth,' which looked like a Gauguin still life? I could have swum in it for hours—a sentimental farewell to summer—but eat it? A sip of the broth and a munch on one of the flower petals was all I needed. But it didn't matter because I took it as the adagio before the vivace. This was a meal that was even greater than its parts. And to drink? Was that really old beer?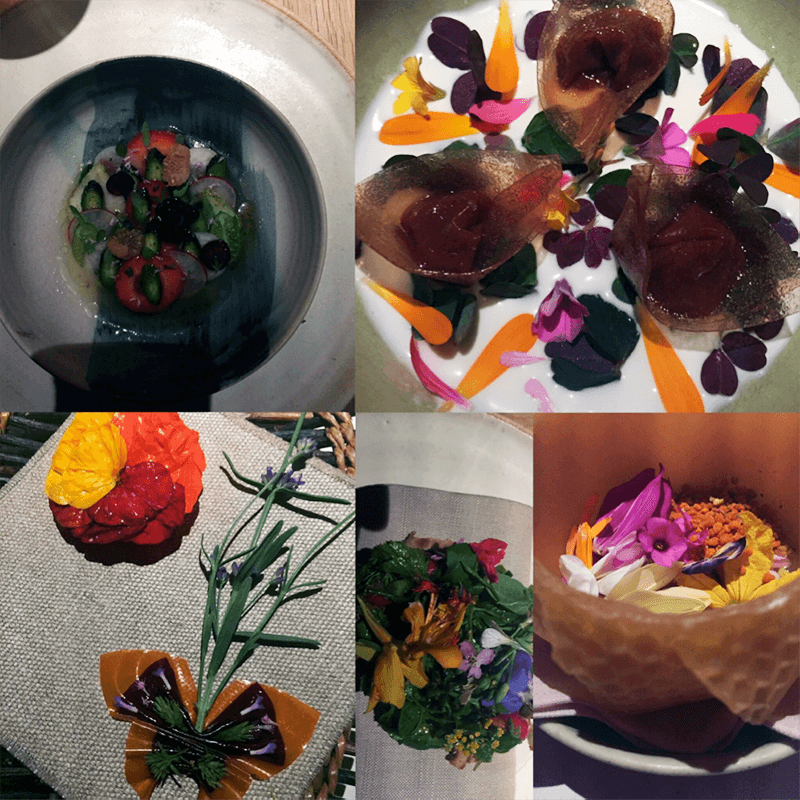 Some grumpy reviewers also have decried the lack of perceived luxury ingredients during the meal. But they were there—the plant kingdom's equivalents to lobster and caviar. Thin slices of porcini on top of the black truffle chip. Deeply wrinkled, preserved spring morels stuffed with beechnut paste on a bed and broth of matsutake. The technique to perfect those adorable oozy quail eggs offset by the rosehip chorizo.
Let's talk about that truffled, smothered caramelized milk skin, a dream for anyone who has ever picked off the cheesy, crusty bits of a gratin. The accompanying ravishing oxidative wine had to be from the Jura. Vintage? And who was the producer? Then we arrived at a wine that we knew without a doubt. "Pheasant's Tears Rkatsiteli. 2016," John said, recognizing his own.

The celeriac beast. Courtesy of Scallion Pancake.
The final savory dish was the one that had magnetized me on social media, that celeriac shawarma. With great pomp—I almost expected a brass band to march behind it—a monstrous celery root mass was paraded about the dining room to the table. It had the conical shape of a carcass at a gyro shop, but dressed up for Christmas with pine branch antlers. Minutes later the slaughtered vegetable arrived, as thinly sliced as carpaccio.
I'm not sure whether the decadent root tasted like shawarma, I stopped eating meat long before I knew kebab shops existed, but it did transport me back to my mother's Coca-Cola basted, roasted flanken that took her all Friday to bring to perfection. Mom served it with Manischewitz. Mads also went with red, but with something like a poulsard, as intense as a Chateauneuf with a slicing acidity to cut the richness. Grenache from…Pfifferling?
Who cared if it was Overnoy, or Pfifferling, or Mondavi? Noma's food isn't about the expected, so why should the wine be? To willingly sign up for the possibility of squirrel but insist on Napa Cabernet or Bordeaux or really any pre-determined wine seems to defeat the purpose.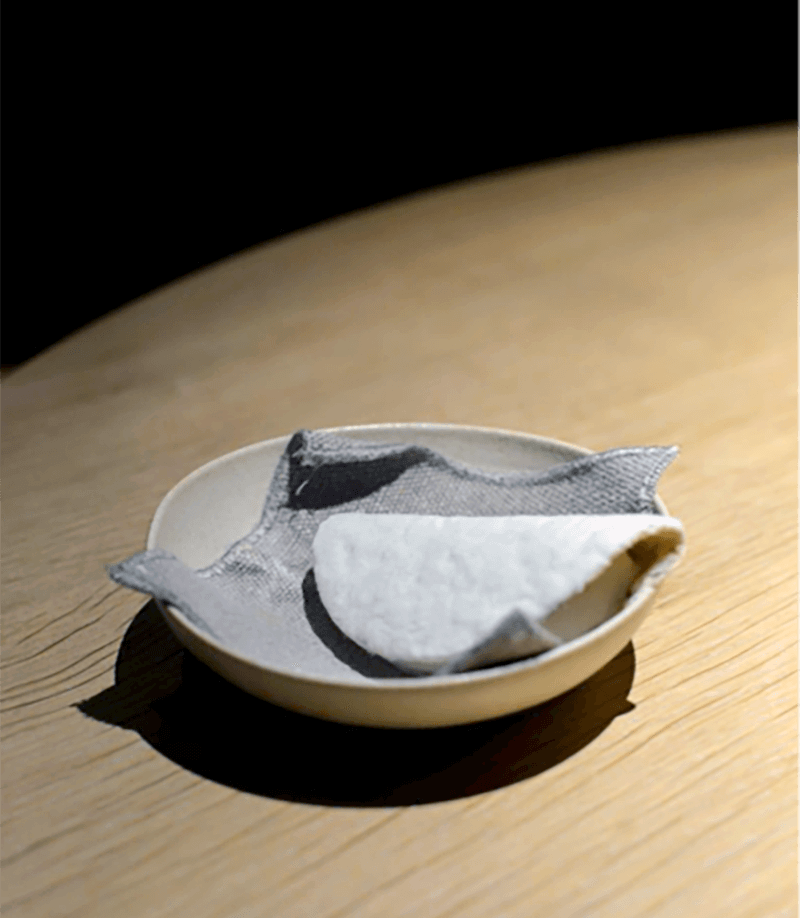 The molded barley pancake was as soft as a neonatal caterpillar. Swaddled in its grips was a startling barely sweet, plum kernel ice cream.
I could see only two reasons to opt out of Mads' tastings; both come down to money. If I had to flash it, there is an extensive selection of Domaine Leroy to choose from. If I needed to save it, there are several options for bottles under $100. But I, who came here to start saying yes instead of no, who started out resistant to wine pairings began to wonder why Mr. Kleppe offered a wine list at all. I'm taking the radical stance and suggesting he abolish it—after all Chef doesn't offer à la carte. The wine and its discourse was a revelatory part of a meal built on trust.
The bill arrived and I happily extended my card. But my money was no good there. John insisted. This was a huge gift and I wasn't sure whether I could allow it but I know better than to mess with John. The last time I had seen him was in Georgia and I was hauled away in an ambulance. Yes. He insisted on paying and I, touched, accepted the message from the universe and said thank you.
Walking away from the restaurant, through the slice of nature outside, the smoke stacks from the industrial plant across the water lighting up the sky, even that was enchanting.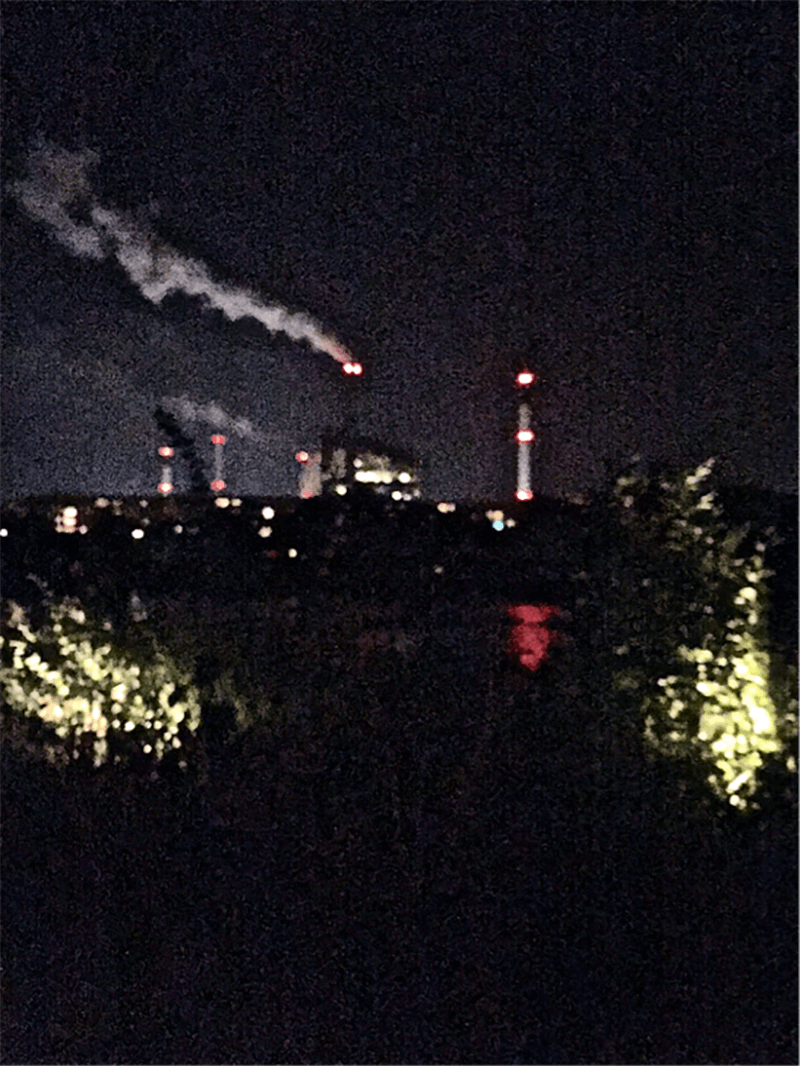 noma
Refshalevej 96
1432 Copenhagen K
+45 3296 3297
Tuesday – Saturday 5:00PM – 12:00AM
Students! Please note there is a special student price at DKK 1,000.