A young and almost angelic man, with sandy-hued hair that perches between rasta and just unbrushed, who travels with a sharp knife, left my couch the morning after I finished up the first draft of my book.
I viciously protect my space and time. It's hard enough to keep that firm boundary when a friend wants to come by, but a stranger? At my invitation? What? Was I crazy? My railroad apartment, with that tub in the kitchen, offers no privacy. Especially when in the heat of the writing, an overnight visitor could be a true disaster.
But last April, I had heard about this crazy project in Australia, Natural Selection Theory. I saw the photographs; demi-john sized ceramic egg-like vessels filled with what I just could not figure out were bloated grapes. My first reaction was that this was someone's middle aged identity crisis, or the result of a gent in need a major dose of thorazine.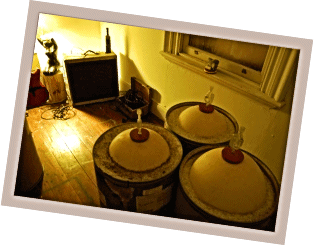 "That is some weird-assed shit," I muttered. "In Australia? Must be some sort of marketing crap."
But a few months back the project resurfaced. Frank Cornelissen talked about the fawn-haired Tom Shobbrook. I admit, that made me take notice. When the importer Paul Darcy called to see if I had an interest in tasting the collection of wines, both that egg project as well as each winemaker's individual wines, I had to shut down my computer and do a little cooking. There was no way I could let this one get away from me.
I made soup, salad, and asked a few folk over for the show. I was more prepared for freakdom than to have my perception of Australia spun upside down under.  
This "Unhinged" Portfolio consists of Project Egg (experiment in natural winemaking)—the collaborative between Sam Hughes, Anton Von Klopper, James Erskine and Tom, as well as their individual labels, Domaine Lucci, Jauma and Shobbrook.
It turns out that this is not some dilettantesque, trendy foray into natural winemaking (all involved have natural commitments), but about copinage and a desire to experiment with how far winemaking can be stretched under the nothing added, nothing taken away umbrella (SO2 for transport, although two have none).
There is something at play here that reminds me of Abe Schoener's quest and ability to break boundaries in the winery. Like Abe, it was the Radikon that influenced Tom's wine direction, but there's plenty of difference: here the loyalty is to the land (all organic at least) and minimum intervention. These men might be the lone voices on their continent.
Take a look at their site and see the mad energy. They are in that nascent moment where everything is possible and positive and their velocity searing. They've attracted huge attention—at least on their home turf. Tom in his first Shobbrook vintage became Gourmet Traveler's winemaker on the rise of the year, proof that Australia is craving something real to drink.
The NST wants to create something different every year, hence the experiments, but when people get a taste of the Voice of the People which is a red field blend sealed under Extra Virgin Olive Oil (got that? Instead of SO2) in a 23-liter demi-john, they might have to do a repeat. Tom insisted we sample it out of jelly jars, trying to drive home the fun part of this project. Okay, a little over the top, but whatever. He anticipates this selling the plump, tannic, pruney wine for $9–10 a glass in NYC (after a $100 deposit for the glass & siphon).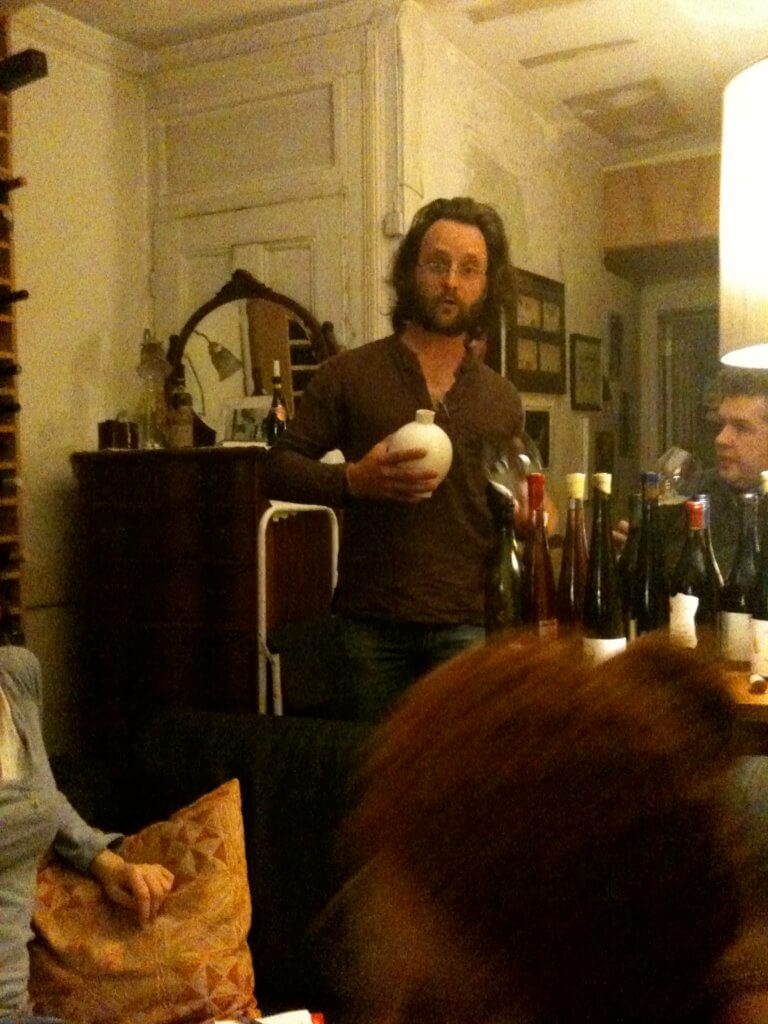 The EGG's design might land it in the Museum of Modern Art design shop (see orb in Tom's hand) and in the 900ml ceramic egg is Hunter Valley Semillon—nutty, melony, with tremendous staying power and length, tremendous texture. A masculine bouquet.
From Anton, the Pinot Noir Wildman kind of knocked us out (Levi, Pascaline, José & Talia). The wine was an experiment in whether a wine can make itself once it is put in the vessel. This got a tiny little foot stomp to break some berries and then put in the barrel, covered with a sheet and then taken out after 30 days. Guess what? It worked. 
At first it seemed over-ripe on the sniff but radically changed into some freshly squished berries, with a decent hanger inside to hold up the structure.
From Tom's own line of wines, don't miss his Edenvale Riesling. It's extremely dry, perhaps too young, but pure meyer lemon and floral that (drum roll) like everything else in this lineup, is never acidified. His Mourvedre is also a winner, more to the Spanish monastrell side than to Bandol. Chunky yet remains fresh, and no SO2 added. 
I had to see the 29-year-old again. I doubted if an Australian visit was ever in my future and we needed to talk. I persuaded his host and importer Paul Darcy to send him to Betty Street for the night. We rushed to Ten Bells, which was a must-do, then we raced back to my place to battle at dueling pizza crusts (mine rustic, his refined). He flashed his excellent knife skills, making perfect full moons of potato slices. He sampled and loved Hank Beckmeyer's La Clarine Farm 2009 Syrah. ("I feel I know something about California from this wine," he said. Funny thing. The first time I tasted Hank's wine, I thought the same thing.)
Laura M. and Mike M. came over. There was an 02 Henri Gouges Nuits St. Georges "Les Porrets de St. Georges," and a '59 Domaine Trapet Gevrey Chambertin 1er Cru "Clos Prieur" to deal with. Thank you, Michael (The Shep) Martin, from the bottom of my little princess heart.
The kid and I didn't really get to talk talk until coffee in the morning (Blue Bottle espresso, not bad).
Shobbrook learned his chops in Chianti, where he landed to make sure he really wanted to make wine. Three years later he returned to Barossa, persuaded his parents to allow him to switch over the vineyard (they had sold off most of the grapes) from their chemical farming to his biodynamics. He is someone who makes his own sausage and grows his own kale and learns about people from the kind of water they drink. The idea of adding things to his wine that don't belong there irritates the shit out of him.
I like these wines. I'm excited by them. I'm not stretching the truth that the only Australian wine I drank in the past twenty years was when I had lunch with Darrell Corti and he produced some whites (older Tyrell Semlillon) and at an auction in NYC when I swallowed some 1972 Grange Hermitage (wanted to see if I could detect those added tannins). That's it. Australia had ceased to exist for me. Had Tom not needed to save the samples for visiting accounts, I'd have been happy to have drunk several of the wines throughout dinner.
"We're trying to form a group of winemakers who work in similar ways," he said. "But it is really difficult to find any other people doing what we're doing."
Not for long. This quartet is going to kick such ass. They might be breaking another kind of 4th wall, one that knocks some sense into a country known more for what it does to wine, than what it doesn't. 
 (The wines will arrive in Jan/Feb.)