Perhaps you've heard, there's been, yet again, devastating early frosts throughout France and in other parts of Europe, such as Northern Italy. This was very early on in the vintage, at the beginning of the plants leafing out. Some are reporting anywhere between 100% and 30% loss in places like the Loire, Auvergne, Northern Rhône, Jura, and Burgundy. Those who pruned late, which delays the spring growth, got lucky. The true damage won't be known until May. Is it possible that the plant just sprouts new leaves? Yes, but will the vine flower? That's another question. Fingers crossed that nature's instinctual repair comes through so the 2021 vintage is not as devastated as it appears to be at this moment.

Have you been getting out a little more? I have. Last night I met up with a friend at the newly reopened 

Ten Bells

. Yassine has been busy fixing the place up and it looks fantastic. The floors are clean (!), the cruddy bathrooms are spruced up, the back room is enlivened by a Rousseau mural, banquettes are coming, the backyard has a plant wall. I sat near that green wall and shared a 

pichet

 of the 2019 Dufaitre Prémices. This was a humble, unpretentious and satisfying wine. I was moved by its confidence to be no more than a good glass and in the moment, perfect for twilight conversation. That gamay, the best kind of bistro wine, made me miss travel and France, I was thrilled to be able to have the experience in my backyard (or rather in theirs.)

What am I reading? Thanks for asking. I'm working through Max Allen's Intoxicating: Ten Drinks that Shaped Australia. Max is a gorgeous writer who brings such depth and poetry and history to the page. After the second attempt, I'm finally into Writers & Lovers by Lily King. My colleague Judy Batalion has what looks like a marvelous (now a New York Times bestseller!) book on her hands. The Light of Days: The Untold Story of Women Resistance Fighters in Hitler's Ghettos. That's up next on my nightstand (meaning the floor next to my bed). And talk about nachas. The winner of The Feiring Line Writing Award, Meg Bernhard, has a piece in this week's New Yorker! A far cry from wine, "The Long Trip Home" tracks the process of sending bodies across borders and oceans.

*

But I'm here mostly to tell you about  Vermont, a new and exciting region in Vermont that wouldn't have been possible without the pioneering energy of Deirdre Heekin and Caleb Barber. Often it takes an outsider to see the potential of a region. But here, the pioneers are insiders. Caleb is a born and bred Vermonter. Deirdre is an adopted child of the state, more or less, since 1986. Their story speaks to revolutions that grow from sense and sensibility.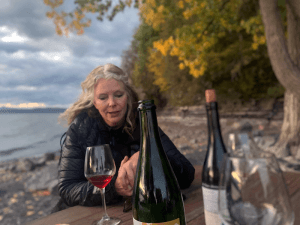 La Garagista was the quirky winery producing their first commercial vintage in 2010 and, against the odds, set Vermont up to become a model for the State's future, thanks to talent, patience, and, yes, good timing. The world was ready for natural wine from Vermont before Vermont was.  In the coming weeks, I will be profiling a few of the newest and brightest. But for those looking for Krista Scruggs (Zafa and Co Cellars) in the story, she will be absent.
Scruggs was a media magnet in the natural wine world and beyond, but her ability to make wine, sell and operate came to a halt in November 2020 when she was issued two cease and desists from the Depts. of Liquor Control and Financial Regulations. She is currently being investigated for and accused of fraud and criminal offenses across state lines. It is not clear if she will ever be allowed to make wine in the state or anywhere else again. I will leave that extremely complicated story for the courts and the investigative journalists to tell. Meanwhile, while this is a developing sad and painful situation, Vermont's future is so full of optimism. So get some Vermont wine, sip, and read along as I introduce you to the new voices in the coming weeks.
At the end of October I, with my little travel partner and her parents, took the ferry from the New York side of Lake Champlain to Grand Isle, a place that thirty years ago I drove through on the way to Vermont, wanting it to be better and more scenic than it was. All I remember from that time was bible camp after bible camp. Now, I saw the island in a different light. Hungry, we stopped at a local greenmarket and got a pizza. The mist and rain were lifting, our feet skidding on the slick mud. Fortified, we drove down a small road and took the left into Ellison Estate, past spindly vines, sheep, and two Airstreams that might one day be your next Airbnb. Kendra and Rob are lovely, and with the help of just one other, do the vineyard work on the ten acres (of course sheep assist as well). You'll notice I chose to write this piece in the third person. After working on a memoir I needed a break from myself. I hope you enjoy meeting the Knapiks. (For Subscribers Only)