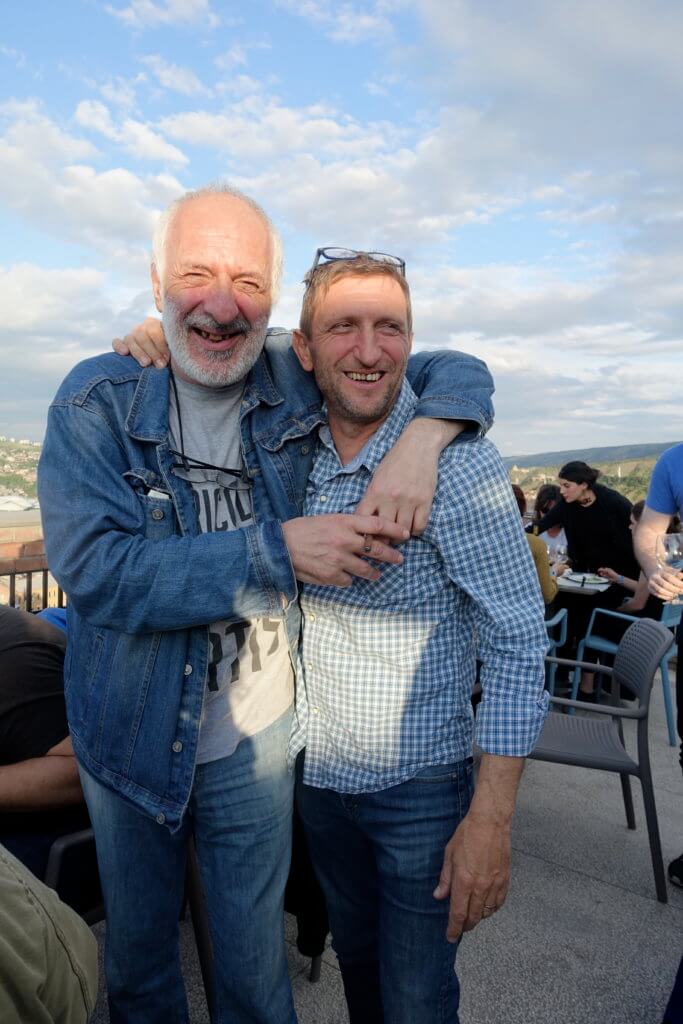 T.Puzelat was still standing the night before the New Wine Festival. Here he is with Soliko of Our Wine. This was the celebration after another wine tasting, Zero Compromise, a selection of the best of Georgian natural. And it was great. Look for it in 2018.
In May something remarkable happens in Tbilisi: the New Wine Festival. I was there for the 2016 and 2017 editions, the 7th and the 8th editions. They were held way above the city in Mtatsminda Park, the open sunny space was filled with party, happiness, khachapuri, grilling, music, festivity and merriment. This annual event showcases winemakers from home artisans to big companies, to natural to industrial. It's a celebration sponsored by the Georgian Wine Club with help through the Georgian wine and tourism outlets as well as Iago's Wine himself, Iago Bitarishvili (who claims it's his last year).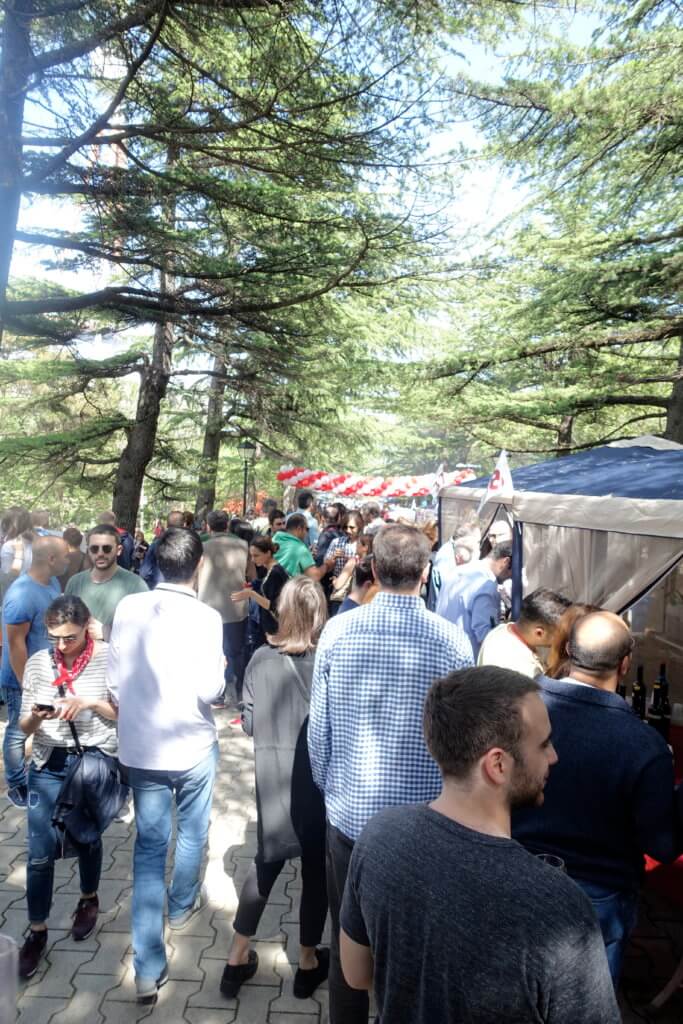 To gauge the industry's growth, know that the tasting debuted in 2010 with a lemonade stand clutch of 15 producers. In 2018 they claimed to have 110 participants (but to me it looked like far more) and 10,000 visitors through the day.
But the most remarkable thing? There's no cost. Not even one lousy lari. Winemakers throughout Georgia come and with the biggest grins on their faces, as if it was a blessing, serve tastes of their wines to complete strangers (no one is carded) for free, for the pleasure of sharing.
Can you imagine?
People with not a lot of money to spare spread the joy of their wine and that's their payment. The symbolism and generosity is humbling. But that is so Georgian, and a big reason why the best of Georgia is an inspiration.
Davit Turashvilli, Georgia's most celebrated writer (Novelist, playwright. Read his Flight From the USSR.), attended the 2016 edition. Having dinner with him the next night, he reflected over the crowd's esprit, peacefully buzzed on wine instead of chacha (or Soviet era vodka). "People were smiling," he said."Happy. The spirit was beautiful. So different than vodka which makes people mean and depressed. Wine makes people happy."
From the looks of people that day, he was correct. But drunkenness does happen. You might want to check out this trip, chronicled in the last few pages of The Feiring Line's On the Bus series.
Below? A series of memories, people, places and bottles.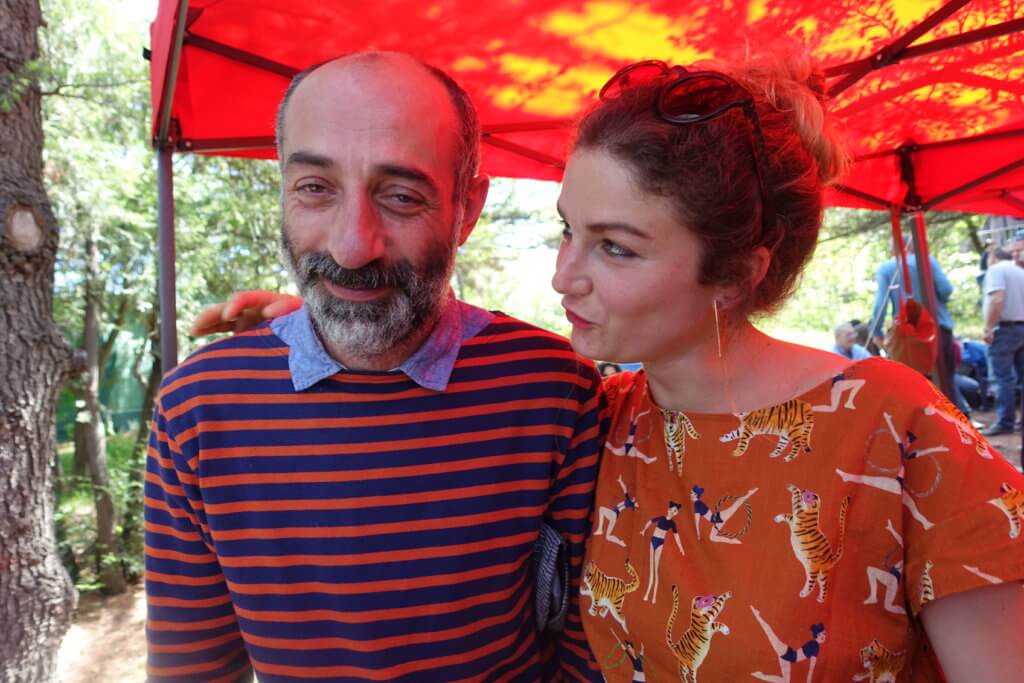 Niki and Laura (de Jura), showing off their new babies–a cross-cultural project, qvevri wine with a Jurassic touch.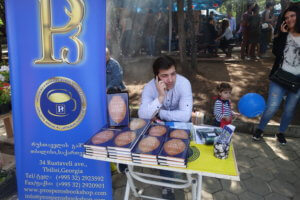 And then, the big surprise for me.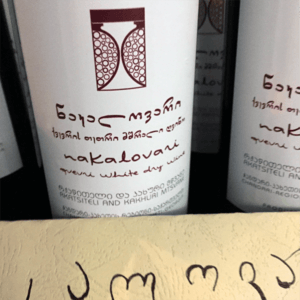 One of the big winners for me from Zero Compromise.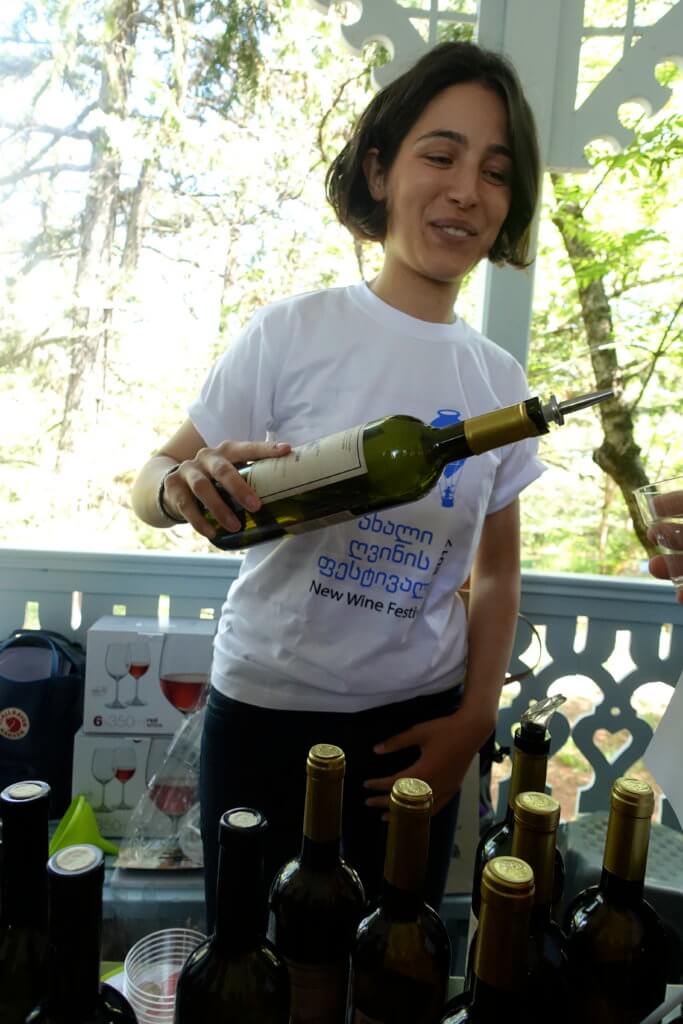 From the Racha tent, we have Baia. Every year her wines get better.
                      That's Iago flanked by Tom Shobbrook (left) and 'my husband' Anton van Klopper.
The newest wines that made me happy are featured in this week's The Feiring Line edition. Go ahead. Take a look.