"Veronelli is not your kind of thing, is he?"
Lorena Ascencios, the grande dame wine buyer of Astor Wines, asked me this before a Chateau Le Puy tasting.  I looked at her wide-eyed and asked, "Are you serious?" Because ever since I first heard of the esteemed Italian wine critic—a term which doesn't do him service—I've been in awe.
It was during my first visit with Bartolo Mascarello when I heard of Luigi Veronelli. Remember, this was in 2001, smack in the middle of the desecration of Piemonte wine. Its tradition, was all but broken. Spoken in reverential terms, Bartolo painted him as the one who protected the soul of wine, not as much a critic as a philosopher. How could I not want to know more of a man who believed and said, "The worst wine made by a farmer is always better than the best industrial wine."
Two years later I had another introduction to the man via Arianna Occhipinti . In  2003, I read her open letter to Veronelli, printed in the Triple A catalogue. It was a powerful cri de coeur about the death of wine was my next introduction, to both the interior life and soul of the young winemaker and to the man she was pleading to. If you haven't read it, do it.
While much of his writing is received by me via a sort of game of telephone–not much of his work has been translated–I understand well that he preached wine as a means to understand culture and society. This is what the best of wine writing does. When reduced to a wine note, when reduced to here's what to drink tonight, we are abusing one of the world's greatest metaphors.
He was a publisher, writer and television personality, probably the only wine writer–or at least one of the few–to impact general culture. Whether you knew of wine or not, In Italy, you knew Veronelli, not just the wine writer, gourmande, television star, but as the protector of the farmer. I never did get to meet him. He died in 2004.
The name Veronelli followed me everywhere tradition was respected. Just recently, on visits to Lino Maga—(who you will hear about in the next mailing). Ever since, whenever I meet someone I respect, the name comes up. Of course.
What would he have made of the turnaround in the wine world today from the end of wine to the beginning o it? Turns out Veronelli had a spectacular wine cellar of more than 42,000 bottles and Astor Wines, Lorena was obsessed with it. For two years she worked with the family to purchase a portion of it to sell at Astor Wines. Mostly to spread the word of a legend rarely spoken of in the United States, she held this historic tasting on the Friday night before RAW—wines from the cellar. And lucky me, she indeed invited me to attend.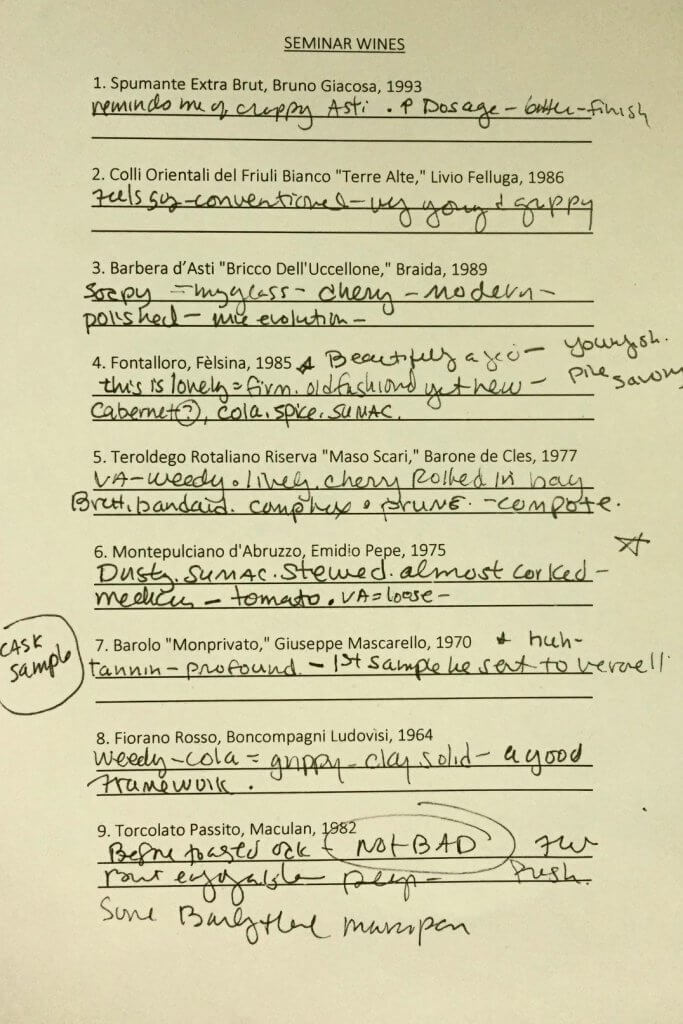 It wasn't so much the wine as the moment. There were nine wines. One stunner was the 1975 Emidio Pepe. The one that truly riveted me was the Teroldego Rotaliano Riserva "Maso Scari," Barone de Cles.Funky, flawed, fascinating. It acted like a no-sulfur, no add wine. It certainly had lots of life, a mass of weeds stewing in volatility, but lively with cherry rolled into hay. True, there was the bandage of brett and prune compote, but what a stew it was!
I asked Elisabetta Foradori what shape the estate is these days and it doesn't sound as if they would have made Veronelli proud. A shame. Because in that wine was greatness.
In the end, it was a tribute to the farmer's Italy and a great man. With Veronelli's daughter in attendance, one of the most emotionally charged tastings I've ever been part of.