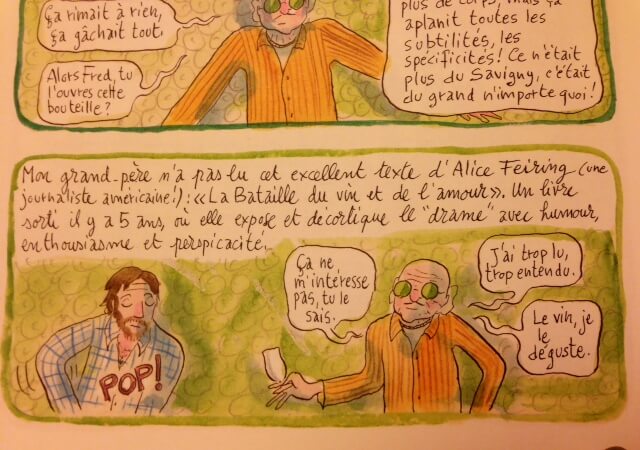 A few years ago my friend Becky said to me, "You'll have to find a new battle to fight."
The wine world had changed so much since I wrote The Battle for Wine and Love, she was indicating that winemakers had started to question their paradigms; make wine for Parker's palate or for themselves. The work was done.
I mean, have you looked to see what's going on in the Beaujolais? Just look at the names of the annual tasting La Beaujolise.
This season I'm aware of three significant debuts from the area, and I'm sure there's more.   
Yohan Lardy makes solid and enjoyable Moulin a Vent and Fleurie, in whole cluster, in old vats. The wines have backbone and are worthy of aging.   
Anne Sophie Dubois went for a stint in Volnay and she's working Fleurie in no-carbo for her two cuvées, l'Achemiste and Clepsydre. Raised in cement of old wood, these are also wines built to last.
And then there's Domaine Robert-Denogent who works in the Macon but is leasing the old Jules Chauvet vines and recently made a  "Jules Chauvet cuvée." The man accredited with being the Grand Poobah of the natural wine world, and heralded as a great maker of (sometimes) no sulfur wines left shoes that I fear are impossible to fill. The wine had something to say, and I'll be watching all three.
There's a lot of land with a lot of beautiful old vines. It's still cheapish. So, it makes sense that I heard that some Americans were looking to buy land there. Not in fancy Burgundy, but in the Beaujo.
Even the locals are joining in and every vintage there are more people joining the likes of those crazy Beaujoloises; Paul-Henri Thillardon, Rémi Dufaitre, Karim Vionnet, Julie Balagny, Julien Sunier, Dutraive, Ducroux, Bruno Debize (I featured his Beaujo in the wine society this last month). Lest we forget, there are always the glorious outsiders, like Christian Ducroux and Roland Pignard.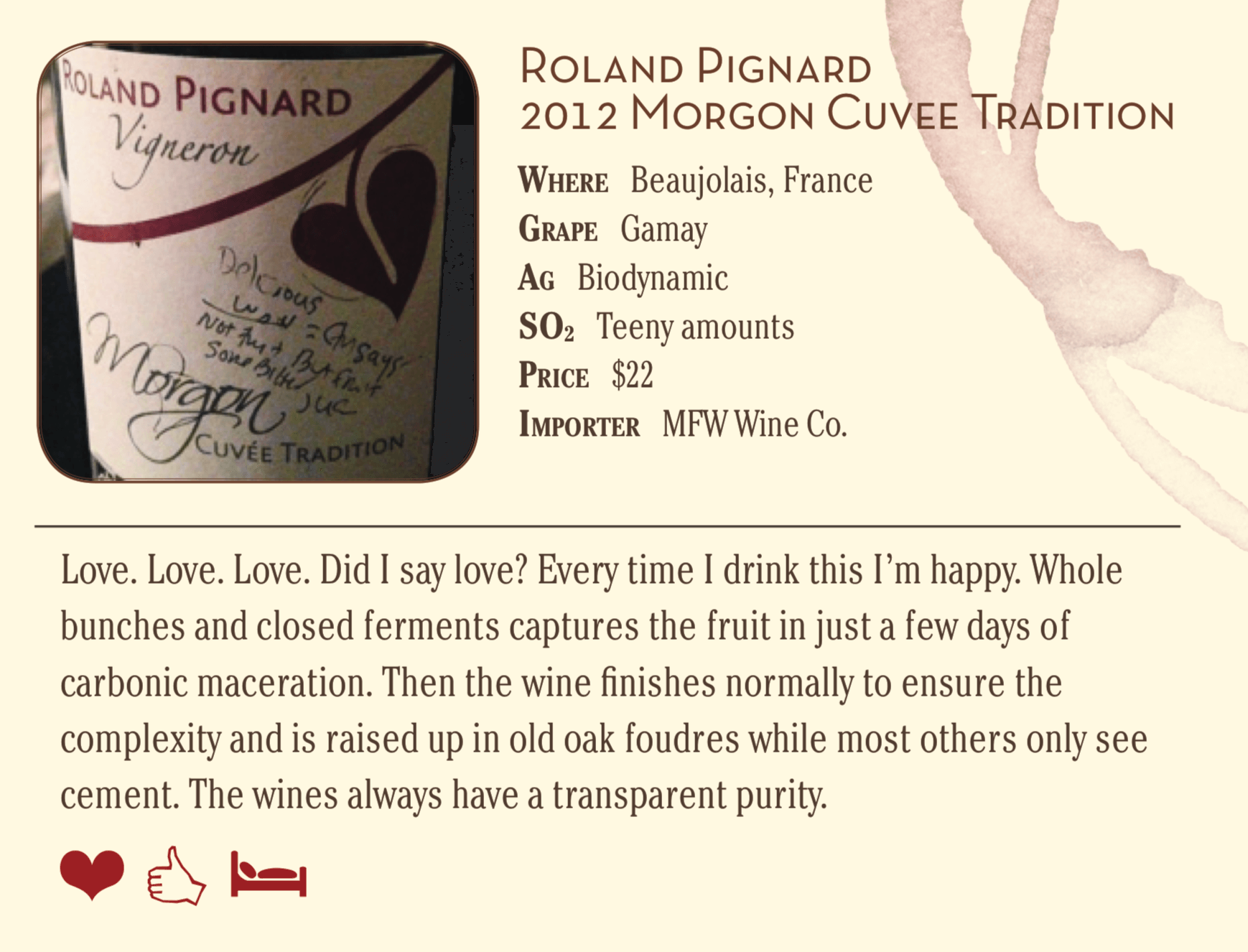 Not all will be working in the vin naturel style, but all who start working now, if the wine is good, will be able to sell their wines because of the natural folk's work. Okay, I'm not sure a newcomer can sell their wines at $40, it would be wise to start at $18. But the world isn't sane. Anyway, I digress. Just to let  you know, it wasn't that big, fat 2009 vintage that created the interest in the area. The reason for the renaissance is the delicious wines the gang of 5 showed the world that good work on gamay and granite demands.
Beaujolais vrais arrivée!
So, I was about to figure out what else I could do. I can't do a thing about ebola. I can't make a dent in ISIS. I know I'm basically worthless, that the only impact could be in wine, but what to turn my pen to next, I wondered. That's when I got a note from a winemaker from the New World who just read The Battle, in Spanish. I live for such notes. It makes me think in the little way of writing, difference can be made. I guess I and my fellow writers still have "work" to be done. Can't pull out the watercolors yet.
Your book make me travel in my life, with plenty of situations that I think happen in every corner of the planet and vineyards.

The fight between Guyot and Cordon (what means UC Davis-Richard Smart against France system).

The fight between tartaric and cloudy weather (sun is god).

The fight between sharp-rock and clay (Pomerol is god = Rolland = clay = chateau9 etc…).

The fight between sense of place and Wine Spectator (Tom Mattews asked me why I don't send my wines to them).

In some, many fights in this little wine world. I use to work as a consultant with Alan York (maybe you met him), terroir and biodynamics together. He was the best viticulturist I met ever, and passed away 1 year ago. Too sad for me.

And in many cases I feel frustrated. Frustrated for my job as a terroir consultant (try to evangelize big wineries to find soul…), frustrated to see my country, plenty of fantastic terroirs, making in many cases clay-coca cola wines, and frustrated that nobody, in general, understands what terroir is and can be. Finally, is like a small club who can drink Tondonia, Rougeard and Bartolo wines, super small one (Tokyo the best place for that)
(For more wine and insider info instead of essay and thought, please subscribe to The Feiring Line Newsletter—and I'll love you forever. And maybe you'll love me forever, too. )