You name it, these wines dish it up: stale choucroute, old cheese rind, rancid butter, moldy dough and other malodorous flavors all spawned by the sexual antics of the wold yeasts that end up driving the fermentation.

–Michel Bettane on the subject of chenin blanc
Michel Bettane is the preeminent French wine critic and does not shy away from unsupported sensationalism. To prove it once again, he has written an article (a translation from one that appeared in his revue) that places him in the forefront of lunacy with his recent essay in The World of Fine Wine, where he sits on the editorial board.
In his "The Tragedy of Chenin," M. Bettane not only shows his arrogance, but seeming ignorance of the beauties that do exist in Loire's region of Anjou. He initially dismisses the grape, he then praises, however, the chenin of white-soiled Saumur, then he goes in for the attack on its neighbor Anjou, or Anjou Noir as it is called, because its chenin grown on schist (more on this in the next Feiring Line).
Last week in the NYT, Eric Asimov questioned whether a critic's world should be a democracy. "I believe critics must make stylistic judgments as well, based on ideas of what fundamentally constitutes beauty, balance and interest in wine, rather than whimsical likes and dislikes."
There's a reason I have my subscribers. They trust that my palate is not Bettane's. They trust me to be a different kind of guide. I have my preferences; the palate is a critical tool. Contrary to what some believe, I can assess a wine fairly (and recommend it to the right people) even though it's not my style. However, Bettane's piece wasn't merely personal preference, it wasn't merely that he prefers tuffeau-based chenin to schist, or why he believes one should artificially block malo. That story I could have read and listened to with curiosity. Instead his was a stealth attack on–without naming names– those who work naturally.
Today's Anjou wines, on the other hand, are a complete disaster. The worst offenders, no matter how stylish, are so horribly unbalanced that their producers actually demote them to vins de table, knowing full well that they would never pass the taste test required for AOC approval.
Okay, let's forgive him that he didn't know vins de table are now Vins de France. Maybe the critic isn't up on the latest. Other than that, I had to wonder if Mr. Bettane had some personal reason for taking up his stance? My fears about his lurking message deepened when he went on to praise Domaine Baumard. Bettane wrote the Baumard's wines are "a superb expression." I continually find them devoid of joy. Could it have been retribution for a revelation by Jim Budd about their cryoextraction practice? Pointing out Baumard as the sole example just was weird.
From my perspective, Anjou is dominated by chemical farming but saved by their natural and organic ones, the ones Bettane despises. Most of the great organic, biodynamic and natural producers don't have to have the AOC. Many of them believe the AOC Anjou is meaningless and there is indeed an exodus that will sink the Anjou AOC unless they make some changes. For example, people buy Olivier Cousin, Baptiste Cousin, or Richard Leroy, they don't buy Anjou. They know the producer not the region, their names mean much more than someone like Baumard who gets the appellation but produces an oft (to me) unpalatable wine.
How is it that as a professional taster Bettane is clueless of the super-glorious examples of winemakers working on Anjou Noir? These include Richard Leroy, Ben Courault, Pithon-Paillé, Patrick Baudouin, Domaine de la Sansonnière, Domaine des Grandes Vignes, Domaine de Bablut, Didier Chaffardon, René Mosse and the newly hatched, Deboutbertin. Has he never had the Savennières from Roche aux Moines, or Domaine du Closel, Eric Morgat, or Loïc Mahe?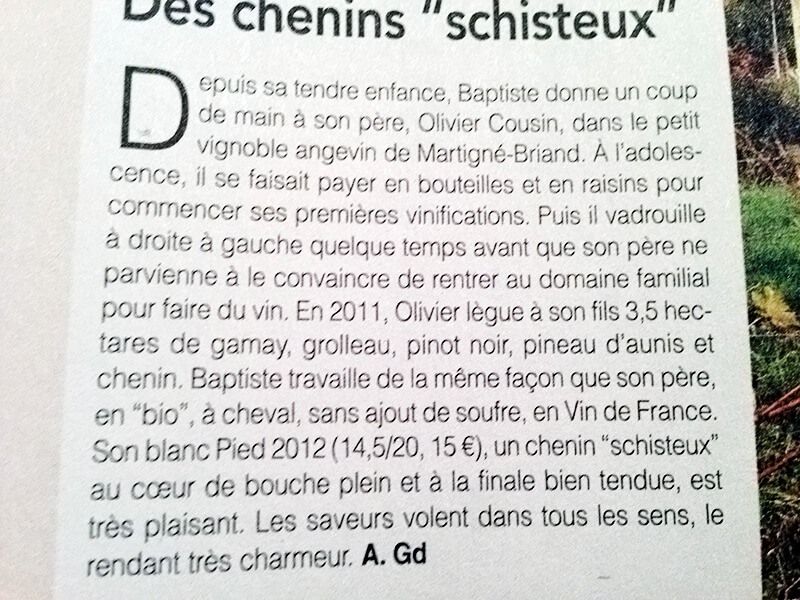 More personally, I want to ask him how he can besmirch people working organically and naturally and making gorgeous wines, struggling to do the best they could in the past two devastating vintages, as Baumard has, with far less equipment, and far surpass that producer in taste and quality? Those wines might not all be to his liking, but to dismiss them categorically as if he were a child in grade school refusing to eat his mushy peas seems a tragic mistake.
Look, Bettane's and my taste are not the similar. Granted. And, as pointed out by Asimov, they don't have to be. When I attend a Bettane greatest hit tasting, I wonder how two palates can taste so differently. Vive la, I suppose. But his essay was sneaky, insidious, yet the hidden agenda there was not so hidden. In the end, what was his point? Drink Baumard? This is not a serious point of view, yet it was printed in a serious magazine. In full disclosure, I respect the magazine, and have loved writing for them. I suppose this is my excuse to propose a serious article on Anjou Noir as a rebuttal. For the sake of wine, it is needed. The tragedy is not Anjou Noir, but in a loss of sanity.
If you want to experience the chenin that fails to convince Bettane, I urge you to head to Rouge Tomate and taste with Pascaline, princess of the chenin with plenty of Anjou Noir on her list. Those are serious wines from serious people working the land seriously.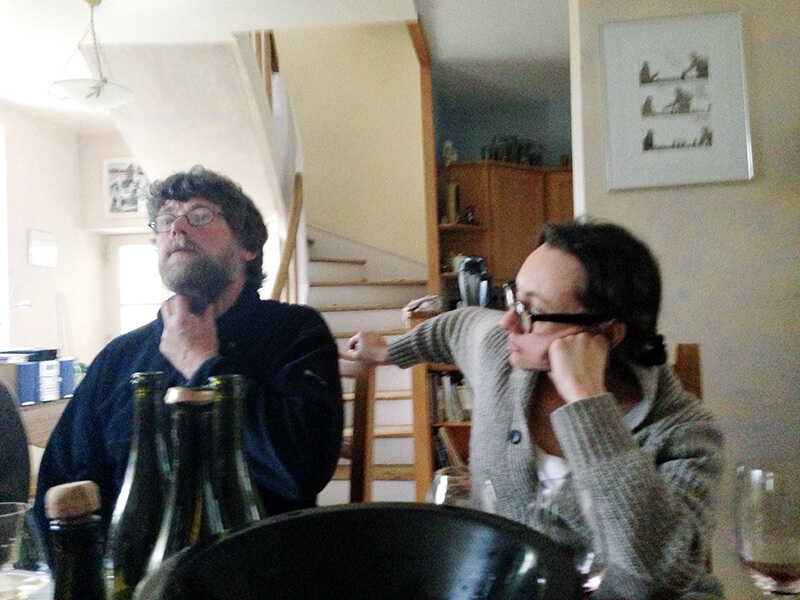 Discussing the AOC situation with Richard Leroy, Feb. 2014. Read about it in the next newsletter!